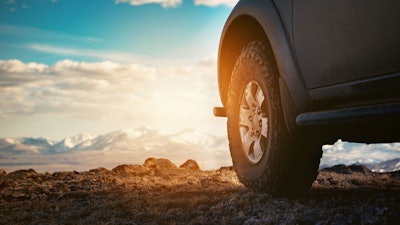 iStock
The great thing about cars is that no matter what shape they're in when you buy them, you can change their looks and performance at any time. With the right accessories and upgrades (you can click here for great options), you can transform any car into the car of your dreams.
The problem stems from the wealth of accessories and upgrades to choose from. There are literally hundreds or even thousands of options, which can make deciding which kinds of parts to buy kind of challenging, especially for those who aren't as auto-savvy.
To help ensure that the car accessories and upgrades you buy aren't a waste of your hard-earned money, here's a quick list of bang-for-your-buck investments:
High-Quality Tires
If you're going to splurge on new car parts, spend on your tires. They can improve almost every aspect of your car's performance, particularly acceleration and braking. A good set of tires can also improve your ride comfort, and of course, ensure your safety on the road by providing ample traction.
If you want to go all out, invest in a set of summer and winter tires. These are made with optimized rubber compounds so that they can give optimum performance even in extreme temperatures. If you don't have the budget, then all-season tires are your next best choice.
Better Spark Plugs
Spark plugs produce small arcs of electricity that ignite the mixture of air and fuel in your car. This then creates a short burst of energy that powers up your engine. In short, without a spark plug (or with a bad one), your car won't start at all.
That's why it's a good idea to invest in iridium or double-platinum spark plugs for your car.
With long lasting, high-quality spark plugs, you can expect better combustion and a higher power output, along with increased fuel economy.
Ceramic Brake Pads and Steel Brake Lines
You need to ensure that your car's braking system is always in good shape to keep you and passengers safe. However, if you don't have the budget to upgrade all of the components, the best parts to get are ceramic brake pads and steel brake lines.
Ceramic brake pads provide a stronger "bite," giving you more stopping power. They also produce less dust, which can help prolong the lifespan of both the rotors and the wheels. They're also quieter, which can improve your driving comfort.
You should also replace your rubber brake lines with stainless steel ones. They will improve braking response as well as the "feel" when you step on the brake pedals.
A New Cold Air Intake
Your car's engine needs to breathe properly so it can run at peak performance. With your car's stock cold air intake, you might not get the results you want due to the restrictive design of the tubes. It's best to get a new one with a straight-through construction for better flow of air.
Aside from better air flow, a cold air intake also feeds your engine cooler, denser air. This contains more oxygen, further improving combustion and power output.
Adjustable Anti-Roll Bars
Anti-roll bars or sway bars are part of your car's suspension system. They're responsible for preventing body roll or body lean when you make turns by evenly distributing your car's weight among the tires.
With adjustable anti-roll bars, you can adjust the settings to achieve the response you want. These components are also valuable if you have a vehicle that you drive on both smooth streets and uneven terrains.
Good Shocks and Springs
Having good shock absorbers installed on your car ensures that you don't bounce and jump over every bump on the road. Therefore, you'll have a much smoother, more comfortable driving experience.
Another role that shock absorbers play is to control that up-down motion of the springs. As a result, you'll feel that your car is much more stable when driving on rough roads.
Speaking of springs, you should invest in a stiffer set if you want your car to be easier to handle even at high speeds. If you're after enhanced comfort, a softer set will serve you better as long as you aren't a speed monster. The bottom-line is to pair the springs you choose with a set of high-quality shocks.
In the end, every accessory and upgrade you buy for your car will depend on your personal driving habits and style preferences. Of course, the price also matters. That's why if you only have limited wiggle room in your budget, consider the above-mentioned upgrades. They're some of the most cost-effective purchases you'll ever make for your car.