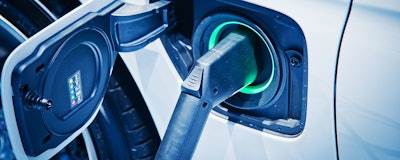 For a long time, electric cars were an inconvenient niche product for oddball ecologists. But with ever extending range, the emergence of plug-in hybrids and an increasingly dense network of charging points, e-vehicles are slowly competing with combustion-based vehicles.

As this chart shows, there are currently only three million e-vehicles on the streets around the globe, but the current growth rates are immense. With big manufacturers jumping on the electrified bandwagon and e-car champion Tesla guiding the whole development, its seems to be only a matter of time until combustion engines are an outdated niche products for coal rolling oddballs.
Tesla Deliveries Picking Up
by Dyfed Loesche
The number of people who pre-ordered a Tesla who are being refunded is up. That's according to analysts with a company called Second Measure who sift through credit card data. As our infographic shows, Tesla was able to deliver around 316,300 vehicles since the third quarter of 2012. The first quarter 2018 saw the production of some 35,000 cars, of which 29,980 were already shipped to customers worldwide, according to Tesla itself.

The analysts put the high number of refunded deposits in the first quarter of 2018 down to the long waiting times of 4 to 12 months. High customer refunds are a liability for Tesla as more than a third of the companies' cash holdings are customer deposits, and the increasing number of refunds is higher than the stagnant number of new deposits being made monthly. Also, federal tax credits for buying Teslas are phasing out this year, as the company is likely to sell its 200,000th car in America alone in 2018.