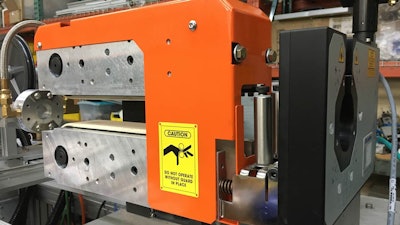 Engineering Resources Group
Engineering Resources Group (ERG) is a product and process development company which specializes in automated processes for fabrication, assembly, inspection and testing operations. By working closely with clients to determine the best ways to meet their needs, ERG provides optimal solutions to improve their processes and reduce cost.
As the cost of shrink tubing used in the production of catheters has increased and supply chain issues caused delivery delays, FEP shrink tubing has become a very expensive throw away item for medical device manufacturers.
Some medical device manufacturers have turned to ERG for machinery to enable them to make the tubing in-house. It can be a painstaking process working with a delicate feedstock. ERG engineers have developed a fully automated, self-contained process that is simple to operate. One key to their success is a unique puller assembly that adeptly handles the fragile tubing as it enters and exits the process while providing the ability to automate the system.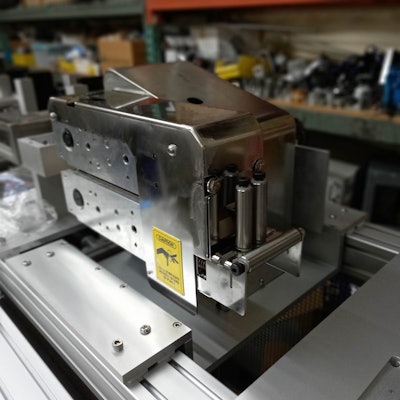 How the System Works
Engineering Resources Group have developed a way to create shrink tubing from regular tubing, through a process that includes pressurization, lubrication, heating, expansion, cooling, washing and drying. The first step of the process involves a Versa Caterpillar puller with pneumatic belt closure, pulling the tubing from a spool in a controlled way and presenting it to the process.
Powered by servo motors with planetary reduction gearboxes, the model C-22 pullers are well suited for the task because they provide uniform pressure and consistent feed rates. ERG uses a 40-Durometer Neoprene belt that is FDA approved, though there are a variety of belt material options to choose from.
Although this model can handle speeds of up to 450 feet per minute, the ERG process generally runs at between 10 and 20 feet per minute. But maintaining that speed is critical so that the tubing isn't stretched or deformed.
After passing through the first Versa puller, the tubing is lubricated to ease its passing through the other system elements. It is heated then pressurized with nitrogen, which allows the pressurized tubing to expand, then it passes through a water bath for a controlled cooling process where it freezes in the stress of expansion.
Next it enters a drying chamber, before it is pulled by another Versa C-22 Caterpillar Puller on the back end, which presents the finished tubing to a special automated cutter where it is cut to the desired lengths while maintaining the pressure in expansion process.
The C-22 pullers apply just enough pneumatic pressure to convey the tubing through the system without deformation. The input and output puller speeds are controlled by the machine controller with the output puller being primary and the input puller speed offset as needed to prevent stretching of the tubing.
The caterpillar design applies uniform pressure over the entire traction length. Pressure is adjustable, allowing a different grip on tubing with thicker or thinner sidewalls, for example. This adjustable, uniform pressure moves the tubing through the process without any elongation or other deformation. Compact C-22 pullers fit nicely within the machine's overall envelope, as well.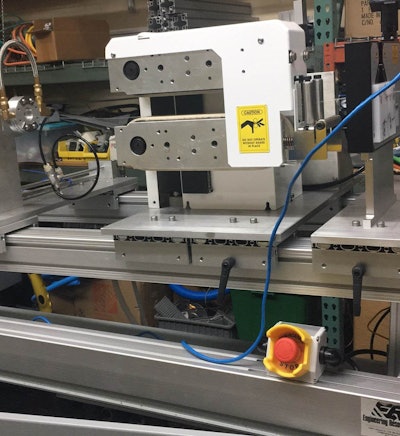 Pneumatic Actuation is Key
In addition to the uniform pressure and compact size, a key aspect of the puller design was its pneumatic actuation. Engineering Resources Group chose the Versa Caterpillar pullers because they open and close pneumatically, allowing the process to be automated for control and safety.
"Whenever there's an alarm or an error in the system, the expander's controller sends a signal to open the pneumatic cylinders without stopping the belts," said ERG President Chris Ross. "Then, once the situation is attended to, we send another signal to close the pneumatic cylinders and get back into production."
Chris Ross is pleased with the Versa Pullers functionality and their longevity. The C-22 has a 2-inch-wide belt with a 9-inch traction length and a maximum opening of 2-inches, which is plenty large enough for the tubing that ERG uses.
Should ERG opt for a larger size, the company's C-44 features a 4-inch-wide belt and a 4-inch opening, while the model 418 also provides 18-inches of traction length; both are available with pneumatic opening.
He began testing them around 2016 and has been using them ever since. Several other pullers they initially considered use hand cranks to change the distance between the feed belts. Though functional, these would not allow the automation which is ERG's hallmark.
Chris Ross knows that Versa Machinery is the ideal companion to Engineering Resources Group's process automation. "We've used them on every machine of this type that we build here," Ross said. "We use them exclusively. We looked at others, but even if the form and fit were right, without the pneumatic belt opening we couldn't use them."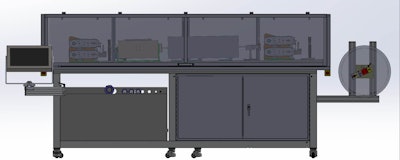 In addition to being ideal for automation, the Versa pullers are built to last. All their pullers include heavy duty steel tables with 3/8" thick steel plate and ¼"x2" angle iron. Custom stainless-steel guarding was added for this medical application. That, along with a durable powder coat paint, ensures they can work for years in some of the toughest environments imaginable.
With this combination of durable, automated machines from Versa and Engineering Resources Group's automation experience and innovation, medical device manufacturers are assured that their shrink tubing will be made efficiently and cost effectively.