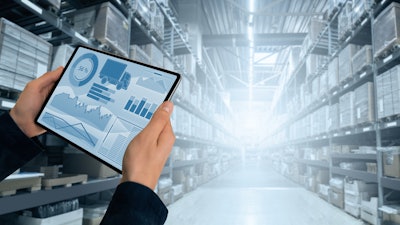 With COVID infections decreasing and new signs of economic life coming to the surface, the industrial sector's response to lessons learned over the last 16 months will have short and long-term benefits. In particular, the erratic production and distribution cycles created by the pandemic forced, or allowed, depending on your perspective, manufacturers to re-evaluate a number of internal processes and areas for investment. 
Automation is probably the leading topic when it comes to pandemic-related investment strategies. Producing, moving and tracking more product with fewer people on-site, and implementing more sensor-laden technologies to enhance distribution and logistics operations have become paramount in responding to new and existing supply chain challenges that have been amplified by COVID. 
Looking specifically at warehouse operations, this translates to upgrades in the form of enhanced track and trace capabilities, smart cameras and machine vision. At the forefront of these developments are companies like Zebra Technologies. 
We recently sat down with Donato Montanari, Vice President and General Manager of Machine Vision at Zebra to get his perspective on the impact of these technologies. 
Jeff Reinke, editorial director: What do you feel are some of the biggest changes between now and 15 months ago in terms of the warehouse work environment and use of new technologies? 
Donato Montanari, Vice President and General Manager of Machine Vision, Zebra Technologies: The pandemic has accelerated e-commerce tremendously. However, the amount of warehouse space required to serve e-commerce is 3X the warehouse space needed to serve traditional brick and mortar stores.  This has driven a huge demand for expansion of the warehouse work environments, but companies are limited by how quickly they can scale these operations. The alternative solution has become automation – increasing the efficiency and throughput of existing resources and processes via the use of technology. 
JR: Everyone is feeling supply chain pressures right now. Most manufacturers are also struggling to find workers, and the skills gap has not gone away. How do you think new warehouse automation tools and strategies can be used to address these issues?
DM: I think there are two main themes at work here. The first is digitalization and the second is robotic collaboration -- and Zebra is an enabler of both. The former focuses on making information visible - at any place, at any time, to every stakeholder in the process - which is critical for maximizing employee efficiency at the edge of business. The latter focuses on reducing the number of tasks required to achieve business goals. The combination of the two results in exponential benefits.
JR:  Is there one particular technology or product that you think could have the biggest impact on supply chain or logistics efficiency over the next 12-18 months?
DM: On the digitalization front, track and trace is absolutely critical. The current global supply chain challenges have taught us that every asset – whether a part, a work in process, or a finished good product – is vitally important. Visibility into where those assets are at any given time and being able to quickly identify and locate those items will eliminate wasted time and money from strained supply chains. Track and trace relies heavily on the type of advanced data capture technologies at the core of Zebra's legacy, and includes RFID and the newly launched FS40/70 fixed industrial scanning products. 
JR: ROI always comes into play with these types of products. What's your advice on how to justify these purchases internally?
DM:  My advice is start small and focus. More often than not, companies strive for long, complex projects that promise formidable ROI but that require significant cross-functional resources and investments. These projects are complex and challenging to implement. Rather, start with something small that can be quickly implemented and easily measured.
For instance, instead of focusing on automating a whole warehouse, start with one line. Bring in a few fixed industrial scanners, deploy them quickly and monitor the efficiency improvements. Study the results, learn what works and adjust accordingly.