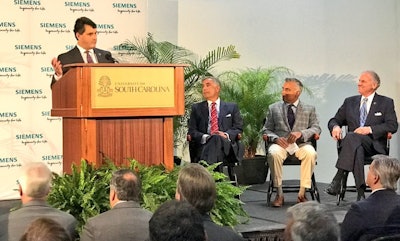 Siemens Corp. is joining with the University of South Carolina to provide students access to an estimated $628 million worth of the latest technology.
The announcement Thursday at the university's McNair Center for Aerospace Innovation and Research represents the German-based company's second-largest investment in a U.S. college.
Raj Batra with Siemens Digital Factory Division says it's part of the company's efforts to develop the "workforce of the future."
University President Harris Pastides says students will graduate prepared for the best high-tech jobs worldwide.
Officials say the in-kind grant involves computers, robotics and unlimited licensing on the latest software. Roughly a quarter will go in the McNair Center, which is expanding. Most of the rest will be used in the university's college of engineering and computing.