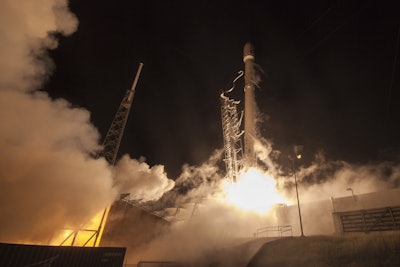 SpaceX's planned rocket launch was delayed five days until Jan. 14 because of bad weather.
The launch was originally scheduled for 10:22 a.m. Monday from Vandenberg Air Force Base in California.
SpaceX, owned by Elon Musk, announced Sunday on Twitter.
The company set a new launch time of 9:54 a.m. with a backup date one day later for the Falcon 9 carrying 10 Iridium Communications satellites.
Iridium chief executive Matt Desch tweeted Sunday: "Bad weather the cause. Anti-rain dances didn't work — oh well. Cal needs rain?"
On Friday, the Federal Aviation Administration reauthorized SpaceX's Commercial Space Transportation License. SpaceX launches have been suspended since Sept. 1, after a massive explosion during a prelaunch test at the Cape Canaveral Air Force Station in Fla. destroyed launch equipment and a $95 million satellite owned by Facebook.
On Jan. 2, SpaceX announced the conclusion of a four-month investigation that found the explosion "likely" resulted from buckling in tanks that store gaseous helium to pressurize propellant tanks. The company plans to reconfigure its helium tanks and load the gas at a warmer temperature.
SpaceX hopes to launch again in Florida on Jan. 26 at Kennedy Space Center's pad 39A; Launch Complex 40 remains out of commission.