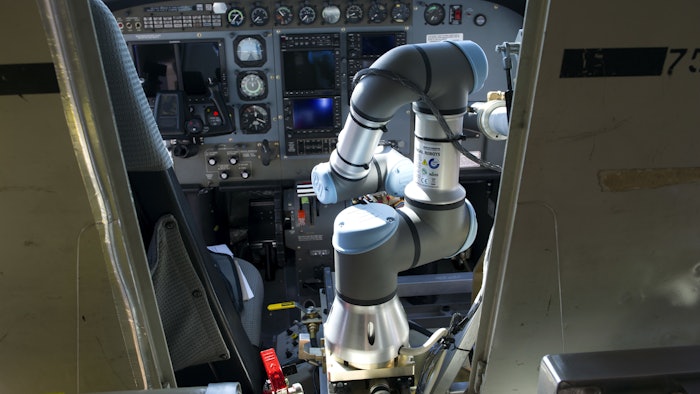 Instead of a co-pilot, this DARPA program pairs pilots with a robot arm.
Started in January 2015, the program aims to automate the systems normally handled by a co-pilot, allowing for a reduction of crew in new or current military aircraft. Aurora Flight Sciences and Sikorsky are both bidding for funding under the third phase of the project. Aurora demonstrated the system in a video published on Oct. 17, flying a Cessna Caravan using the Aircrew Labor In-Cockpit Automation System (ALIAS).
"Alias is focused on cockpit automation to enable operation of current aircraft with fewer crew, and not on a new aircraft designed for reduced-crew operation," DARPA Program Manager Dan Patt said via Aviation Week. This would enable more military planes to fly with fewer trained pilots. Aurora is also working on installing ALIAS in a Bell UH-1 helicopter.
The robotic system includes a multi-axis arm and actuators that move the throttle, control column, and rudder pedals. Cameras inside the cockpit read the control board and feed that information to the robot, which can then control the airplane in real time. In the case of the Cessna Caravan, only the right side of the cockpit needed to be modified in order for the system to work.
The setup shown in the video was developed for Phase 2 of the DARPA project. Previously, Aurora had used ALIAS in the DA42 Centaur, based on the DA42 Twin Star, a four-seat plane that can be configured for either human pilots or fly-by-wire. Moving the system to the Cessna proved that ALIAS could work on a plane not initially designed for any autonomous operation.
Aurora's proposal for Phase 3 involves letting the pilot speak to the automated system using speech recognition technology, as well as improving the vision system.