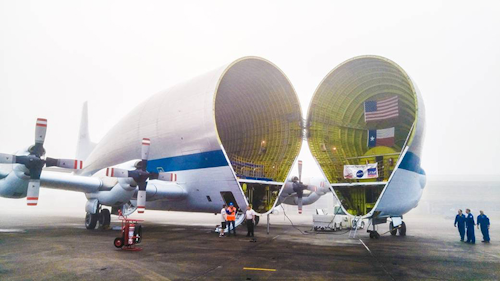 On Monday, NASA's Super Guppy aircraft carried the Orion spacecraft pressure vessel from its assembly facility in Louisiana to the Kennedy Space Center in Florida. 
According to NASA, the Super Guppy "has a cargo compartment that is 25 feet tall, 25 feet wide and 111 feet long and can carry more than 26 tons." 
The Super Guppy's hinged nose can open more than 200 degrees, which allows larger piece of cargo — such as the Orion — to be easily loaded and unloaded in the front. 
What do you think of the Super Guppy's unique hinged nose? Comment below or tweet me @MNetAbbey.