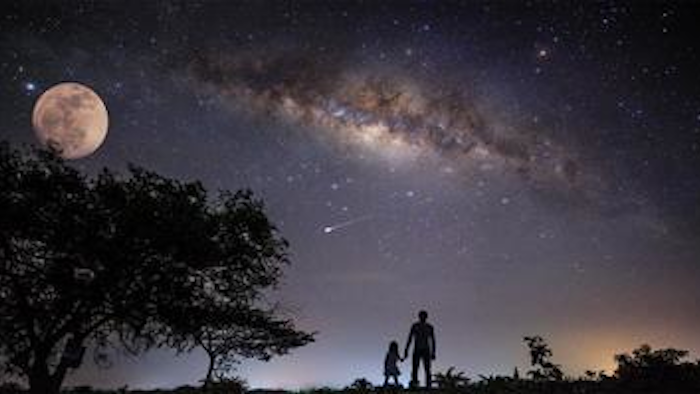 The first large, permanent human settlement on the moon could be a graveyard.
Elysium Space, a California-based funerary services firm founded in 2013, announced on Aug. 12 that it will be scheduling deliveries of human remains to the moon, depositing a portion of the remains in a pit on the lunar surface in a personalized capsule.
"From the first day we started Elysium Space and imagined awe-inspiring memorials, we thought that the moon could create the quintessential commemoration. Offering this exceptional tribute within the reach of most families is an important part of this new chapter opening for our civilization," said Thomas Civeit, founder and CEO of Elysium Space and former NASA engineer.
This is made possible by a partnership between Elysium Space and Astrobotic Technology, a Pennsylvania-based private company dedicated to carrying lunar payloads.
Astrobotic will use the untested Griffin lander to deliver the capsules to the lunar surface, landing near a pit in the Lacus Mortis ("Lake of Death," a lava plain).
An exact date for the first Lunar Memorial launch hasn't been set yet, since it is dependent on Astrobotic's timeline. Astrobotic will be attempting to reach the moon by Dec. 31, 2016, though, as that is the final date on which they're eligible to win Google's $30 million Lunar XPRIZE. Astrobotic has been shooting for the moon as part of the contest, and this year announced a contract to carry a rover belonging to another team, Hakuto.
Even without a date set, Elysium Space is encouraging interested parties to reserve Lunar Memorial services early due to the limited space available aboard the lander. The cost of the service is $9,950 for the first 50 participants, followed by $11,950 for later reservations.
Participants will receive a capsule on which can be printed the initials of the deceased and a personal message, as well as an invitation to the launch viewing event, a professionally produced video of the launch event, and a certificate assessing the completion of the lunar landing.
"It's a privilege to provide an experience that will allow families to commemorate and honor loved ones by directly connecting them with the Moon in the night sky," said John Thornton, CEO of Astrobotic Technology.
Both public companies and private rockets have sent ashes to space before, with companies like Celestis and NASA itself sending remains beyond the atmosphere since the early 1990s. A capsule containing the ashes of planetary scientist Eugene Shoemaker were dropped onto the moon by the Lunar Prospector orbiter in 1998, and NASA had originally planned to fly human remains aboard the LADEE spacecraft, launched in September 2013. However, the practice was discouraged around the time of LADEE's launch, because, NASA said, the agency "has become more aware of the importance of the moon has to people of many cultures."