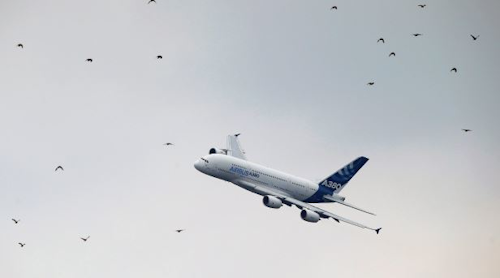 The Paris Air Show is the world's largest and longest running aerospace trade show, with a tradition dating back to 1909. This year is the 51st show and it runs from June 15-21.
Military and commercial sales distinguish the Paris Air Show from other aerospace and aviation shows. For instance, this year's show has been marked by major aircraft sales for Boeing and Airbus and a partnership among Lockheed Martin Corp., Raytheon Co. and Bombardier.
The fierce competition between industry leaders Boeing and Airbus lit up the first few days of the event.
Jamey Keaten and Angela Charlton of The Associated Press wrote, "Airbus is betting on big jets as the future of aviation, while rival Boeing is gambling on smaller ones — but both sold scores of planes of all sizes at the Paris Air Show on Monday, defying predictions of slowing demand."
Boeing took the cake for largest deal on Tuesday when AerCorp Holdings NV announced its purchase of 100 Boeing 737s — a $10.7 billion deal. SMBC Aviation Capital, Sriwijaya Air, Rulli Airlines and Minsheng Financial also signed on to purchase Boeing 737s.
Boeing and Airbus both received business from Garuda, which placed a $20 billion order for 60 Boeing and 30 Airbus aircrafts.
What do you think we can expect from the rest of the Paris Air Show? Comment below or tweet @MNetBridget.