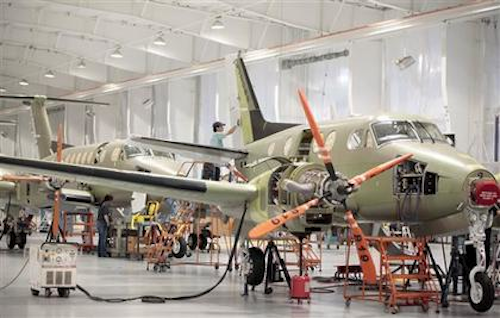 Check out some of this week's top headlines from across Manufacturing.net, from the 12 regions that were chosen to provide a boost to U.S. manufacturing to Beechcraft's partnership with Wichita State University.
Obama Administration Names U.S. Manufacturing Regions
WASHINGTON (AP) -- The Obama administration on Wednesday named 12 regions of the country that will receive special attention under a new federal program designed to help make them more attractive to manufacturing companies looking for a place to set up operations, provide a boost to the U.S. manufacturing industry and create jobs.
The Investing in Manufacturing Communities Partnership was started last September to encourage communities to develop long-term plans to compete for these companies and the jobs and economic infusion they would bring. The partnership taps the resources of 11 federal departments and agencies that have $1.3 billion in economic development funds, from the departments of Commerce, Labor, Transportation, and Housing and Urban Development, to the Environmental Protection Agency and the Small Business Administration.
The partnership marks another attempt by the administration to give a lift to the U.S. manufacturing industry, which has suffered as the U.S. economy has shifted away from manufacturing and companies have moved many of these jobs to countries with cheaper labor costs. Continue reading...
---
Google Building Car With No Steering Wheel
LOS ANGELES (AP) -- Google will build a car without a steering wheel.
It doesn't need one because it drives itself.
The two-seater won't be sold publicly, but Google said Tuesday it hopes by this time next year, 100 prototypes will be on public roads. Though not driving very quickly — the top speed would be 25 mph.
The cars are a natural next step for Google, which already has driven hundreds of thousands of miles in California with Lexus SUVs and Toyota Priuses outfitted with a combination of sensors and computers.
Those cars have Google-employed "safety drivers" behind the wheel in case of emergency. The new cars would eliminate the driver from the task of driving.
No steering wheel, no brake and gas pedals. Instead, buttons for go and stop. Continue reading...
---
MIT Prof.: More Costly To Offshore Than Many Companies Think
CAMBRIDGE, Mass. -- In the last 20 years, a massive wave of companies have offshored manufacturing jobs from the U.S. and Europe to developing countries in search of lower costs. However, research by MIT Sloan School of Management Visiting Prof. Suzanne de Treville finds that it's often more costly than companies think to offshore. Using a new finance tool, she shows how the mismatch costs that result from extending the supply chain may well be higher than the lower cost offered by the offshore supplier, leading to reduced profits.
"This research makes an important contribution to the current search for ways to encourage manufacturing in developed countries, where workers earn a living wage," says de Treville. "The Obama administration in the U.S. and many European governments are committed to supporting local manufacturing jobs, but the perception remains — when the mismatch costs aren't entered into the calculations — that manufacturing locally results in companies either losing money or in governments needing to subsidize. Our results show that there are a lot more options for competitive local manufacturing than most people realize." Continue reading...
---
Price-Fixing Probe Rattles Auto Industry
WASHINGTON (AP) -- An investigation into price-fixing and bid-rigging in the auto parts industry has mushroomed into the Justice Department's largest criminal antitrust probe ever, and it's not over yet.
The investigation, made public four years ago with FBI raids in the Detroit area, has led to criminal charges against dozens of people and companies, stretched across continents and reverberated through an industry responsible for supplying critical car components.
The collusion has also saddled U.S. drivers with millions of dollars in extra costs. Continue reading...
---
WSU, Beechcraft Team Up To 'Insource' Jobs
WICHITA, Kan. (AP) -- Tired of hearing about jobs getting outsourced from Wichita?
So are Shawn Ehrstein from Wichita State University and Scott Yeakley from Beechcraft.
In the past year Ehrstein and Yeakley, aviation engineers, helped bring back to Wichita the equivalent of more than 50 aerospace jobs formerly outsourced, WSU officials said.
Leaders at WSU now say the partnership idea is so intriguing that they will try to replicate it: bringing back more jobs and redefining public-private partnerships in the future.
The idea they devised was unusual:
Take a bunch of WSU engineering undergraduates, mostly young people. Train them intensely. Then integrate them as full team members on real projects at Beechcraft. Continue reading...
Every Friday, we will be rounding up the most popular news items of the week based on site traffic. Feel free to share your thoughts, questions or concerns by sending an email to amy.lawrence@advantagemedia.com.