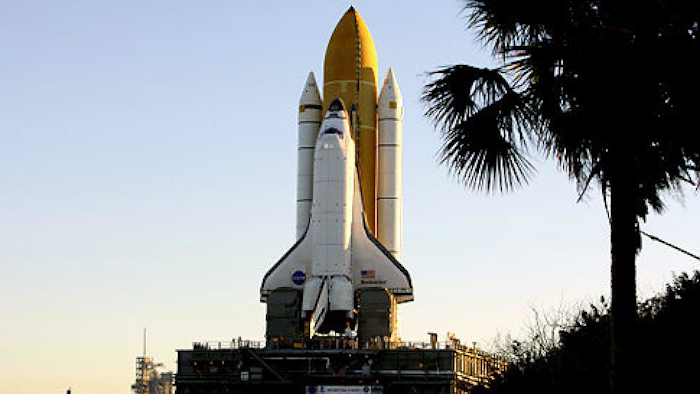 Next time NASA's crawler transporter makes the 4.2-mile trip from the assembly shop to the launch pad at the Kennedy Space Center in Florida, the massive, lumbering 1960s machine will have new capabilities and 88 new L&H Industrial logos engraved into parts the Gillette company machined, installed and tested.
Fifty years after the company first opened its doors, L&H has tackled its biggest job to date and its first government contract, said Bill Schroyer, L&H's project manager for the transporter rebuild.
"Just walking in the door was something," Schroyer said about working with NASA.
More specifically, NASA has tasked L&H to redesign the lower rollers of the crawler, which carries the spacecraft to the launching pad. The company's work boosted the machine's carrying capacity from 18 million pounds to 24 million pounds, enough to allow the vehicle to carry NASA's new Space Launch System.
It can be a little intimidating to think about the pedigree of those on the NASA staff, he said. They have expertise and experience going back decades that includes sending people and billions of dollars of high-tech equipment into space.
They're also down-to-earth and easy to work with, Schroyer said. And crucially, L&H's work has value for NASA.
Since being awarded the contract in October 2012, the company has also had an opportunity to see some of NASA's operations up close. Working at the space center and even getting to see four or five launches while they were down there was different from most of the company's work locations, L&H field lead Luke Sigman said.
"It was definitely a nice environment to work in," Sigman said.
Before they headed out to Florida to install their parts, workers in Gillette and Sheridan had to machine everything they needed. The company won the contract for its part of the rebuild at the end of 2012.
They had to machine some parts with a much smoother surface without grinding than is typical for a mine shovel. It pushed the machinists at times to do work they didn't know they could, Schroyer said. Typically, a surface as smooth as NASA wants would require grinding after a part is machined.
Grinding can also weaken a part, which NASA wanted to avoid. Getting to that specification with a single-point lathe meant moving the part much slower than is typical, he said.
The project also required attention from everyone at the shop. Between the Gillette and Sheridan shops, L&H sent 500,000 pounds of parts on 14 semis to Florida.
It was larger than most jobs just because of how many parts were involved, Schroyer said.
Marion Power Shovel designed the crawler transporter in the 1960s and based it on its power shovel designs. A truck similar to the tracks and drive systems on those shovels is in each of the transporter's four corners.
Since it is basically repurposed mine machinery, the work and the size of the parts was not so out of the ordinary for L&H to manufacture, Schroyer said.
Having to have every process approved by NASA, and working on technical details about the project with the customer was much different for the company, he said. It meant planning ahead so they had other tasks to tackle while waiting on approval for changes to the plans.
"We're used to kind of making our own decisions," Schroyer said. "The biggest difference is the amount of paperwork."
The government shutdown hit a few weeks into the field work in Florida. That caused another wrinkle in the operation that private sector work didn't prepare the company for.
After getting its first taste of government work, L&H recently won its second NASA contract. It plans to start work in April rebuilding the transporter's drive transmissions, Schroyer said. They expect the components to get to Gillette by April.
In the company's shops in Gillette, welders are hard at work on drag line dippers. In the machine shop next door, newly made parts for power shovel bushings sit next to lathes and other machines the size of living rooms.
Since setting roots serving the oil industry, mines have formed the business's foundation, Schroyer said. Now the company is expanding its capabilities. It can do more complete rebuilds than ever and is focusing more on larger and different types of contracts, he said.
Across the room from the dragline dippers, welders are putting finishing touches on the first lift arm the company has ever made.
In the mechanic shop, transmission parts and tools show more evidence of change at L&H. It started work on transmissions about three years ago, Schroyer said. It can now build and service transmissions and had even made its own designs.
Mechanics and machinists will put that new area of expertise to work when its next NASA contract starts. There is even a rebranding, including a redesign of the logo, to go along with the expanding focus.
Its work won't be heading out of this world any time soon, but soon it will help with a crucial step in sending astronauts and other people's work farther into space than ever before.
The upgrades to the crawler transporter were done in conjunction with other contractors and addressed general ware picked up in about 50 years of moving space vehicles to launch. The transporter has carried shuttles and every Saturn V rocket used on the Apollo space missions.