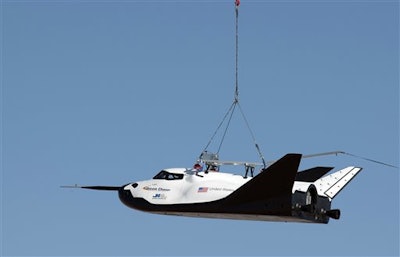 EDWARDS AIR FORCE BASE, Calif. (AP) -- A Colorado company developing a spaceship to take astronauts to the International Space Station has run the craft through a series of tests at a NASA facility in California.
The two-hour test of Dream Chaser spacecraft occurred Thursday at NASA's Dryden Flight Research Center at Edwards Air Force Base. A helicopter picked a test version of the small spacecraft and flew it 3 miles at heights reaching 12,400 feet.
The Dream Chaser followed its projected path, and its flight computer, guidance and navigation system were tested. The landing gear and nose skid also were deployed.
The test paves the way for further tests at Dryden this fall as part of Sierra Nevada Corp.'s agreements with NASA.
The vehicle is designed to carry seven people and land like a plane.