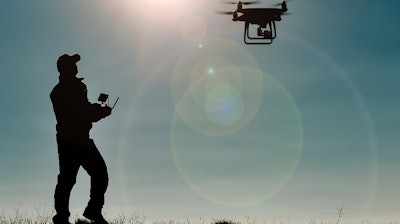 Joseph Gates, 42, of Vernon, Connecticut had built a bright career as a lighting and video system technician in the entertainment industry. Then the pandemic struck and his career prospects turned dark.
"On March 13, 2020, I was halfway through loading the HSO show at the Belding Theater at the Bushnell in Hartford when COVID shut things down completely," explained Gates. "I was really worried about not having enough money to pay my bills. I had to borrow money from family and friends with unemployment benefits set to run out the third week of December."
Gates had been unable to find work, even though his impressive resume includes openings of venues like Animal Kingdom at Disney World, the Basketball Hall of Fame and the Casino of the Sky at Mohegan Sun. Then on December 14, he landed a job at Aquiline Drones, the first drone manufacturing and assembly plant in Connecticut, as a drone technician. After only two weeks, he was promoted to Production Supervisor managing a team of 23 employees.
"I was terrified that my skills would not be a fit for a manufacturing tech position," shared Gates. "But I soon realized that ALL of my skills like soldering wires, computer programming, re-wiring things, troubleshooting and leadership are applicable to this job."
Similarly, Stephanie Hernandez, 34, of East Hartford Connecticut, never envisioned a career in high tech manufacturing, but she wasn't simply looking for a paycheck.
"I had a job, but I always had an entrepreneurial spirit," said Hernandez, whose quest for career fulfillment had led her from retail management to criminal justice to government. She was working as an Administrative Assistant in the Personnel Division of the Hartford Police Department when a mutual associate connected her with Barry Alexander, Founder & Chairman of Aquiline Drones (AD) in Hartford.
The prospect of joining the growing drone enterprise that not only produces Made-in-America commercial drones, but also provides advanced drone solutions and services, was an opportunity that Hernandez couldn't pass up. "It was perfect timing as I had lost my passion and was excited for a change in environment and career. I believe in Barry's vision for Aquiline Drones and I know it will be successful."
Hernandez now trains manufacturing technicians, establishes inventory and serves as backup to the Production Supervisor at AD. Her previous experience handling purchase orders, invoicing, payroll and worker's comp, plus interviewing and hiring candidates, strong interpersonal skills, and impeccable customer service, prepared her for success in her current role.
Hernandez and Gates are two of the twenty-five newly-hired technicians working in AD's 7,000 square foot, state-of-the-art drone manufacturing and assembly lab.
AD has hired several of its new manufacturing employees with the support of Capital Workforce Partners (CWP). As North-Central Connecticut's premier workforce development organization, CWP has a statewide reach that helps businesses find, retain and grow the most qualified talent. Additionally, CWP helps adults develop skills necessary to thrive in the state's job market and directs them to employers seeking those talents.
"In September 2020, Aquiline Drones partnered with CWP to promote career opportunities, source candidates, and to connect with workforce development initiatives," explained Alex Johnson, President & CEO of Capital Workforce Partners. "Since then, CWP, along with its partners at the region's American Job Centers, has screened and recruited more than 60 candidates, filling 23 Maintenance Tech roles, while leveraging a National Dislocated Worker Grant and federal CARES Act funding to help Aquiline Drones offset employee training costs."
Johnson notes the partnership has also led to new collaborations with regional training providers including Capital Community College and the College of Technology. "Our leadership team is not only pursuing our vision of building a drone empire," said Alexander. "We are invested in creating meaningful career opportunities for the tech industry of the future – right here in Hartford, CT".
The company will continue hiring for additional production technicians as well as positions at a soon-to-be-opened showroom and retail store in Hartford, plus manufacturing positions at a larger facility within the state. For job inquiries, please contact info@aquilinedrones.com.
Hernandez agrees that her job satisfaction goes well beyond earning a living. "My proudest moment at Aquiline Drones was software testing the drone that I assembled - to see it fly was a real sense of fulfillment. I tell myself to do something that scares you each day because every day is a dream and working here is certainly a dream come true."
For Gates, his greatest accomplishment at AD thus far has been "seeing the professional and personal advancement of my team."
Aquiline Drones (AD) is an American drone and cloud solutions company located in the financial district of Hartford, Connecticut. Visit www.aquilinedrones.com for more information.