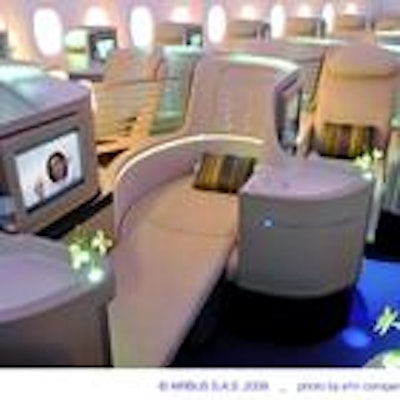 Some orders are extraordinary challenges, even for experienced model builders like Modellbau Robert Hofmann. The order for the Airbus Showroom in Toulouse, for which cabin elements, or "mock-ups", needed to be created in a 1:1 scale, was such an "exotic." The task was to design 28 Business Class seats along with 6 individual cabins and a lounge for First Class in close collaboration with designers from Design Investment. In the Airbus Showroom, the airlines' buyers can let themselves be inspired about what long-haul flight luxury can look like, in advance of purchasing a wide-body aircraft like the A380.
Anyone who is familiar with a 12-hour long-haul flight from Zurich to Hong Kong knows how strenuous travelling can be, particularly when flying Economy Class. Even in Business Class, the seats are not necessarily luxurious for such a long-haul route. The same route in First Class of an A380 has a high price compared to Business Class, however, the interior fittings and passenger service are extremely pleasant. The mock-ups are seat modules and sleeping modules, which ensure as much relaxation as possible through restful comfort with integrated entertainment. The First Class fittings are regarded as image carriers and brand messengers for airlines, even if the majority of passengers tend to only be able to afford lower-priced classes.
Objective for the model builder
As is customary for experienced model builders, the design of the mock-ups needed to be indistinguishable from a series version, in terms of impression, function and feel. In order to achieve this, Modellbau Robert Hofmann pulled out all the stops in process engineering, with regard to mould making, rapid prototyping and refinements.
In this case, also special third-party services, such as covering with fine leather. Particularly the high-quality finishing of plastic parts at economical unit prices and form-fitting assembly are included in the disciplines in which Modellbau Robert Hofmann ranks among the world's leading companies in the industry. In view of the huge modules, many individual components needed to be coordinated to fit precisely – from development, to production, right up to the finish.
Not only were the time constraints set by the client, Airbus, tight, but the designer's aesthetic requirements also needed to be fulfilled. In close collaboration with the client and designer, Project Manager Ingo Güttler coordinated the respective teams of model builders and external partners. A "truly mammoth task," says Ingo Güttler now.
The major advantage for the model builder, based in Lichtenfels, was its experience with clients from the aviation and aerospace scene. The Hofmann Group supplies prototypes, tools and series parts to Diehl Aerosystems, B-E Aerospace Systems, Airbus Group, Latécoere and AOA Avionics Dresden. Therefore, the preferences regarding safety concepts, material selection and execution are known. In terms of series parts, components are sent to Hamburg-Finkenwerder or Toulouse for the Airbus series A320, A340, A380 and the newly developed A350.
Safe & light in the air
Assemblies for passenger aviation must meet the criteria for lightweight construction, as known from motor racing. However, in addition to this, extremely high safety requirements apply, which can only be fulfilled using high-temperature-resistant high-performance plastics, such as PEEK or PEI. For the production of tools and processing of these materials, this requires a great deal of experience and, particularly, process know-how.
Through intelligent engineering design and material selection, many components can be configured in a weight-optimised manner, which leads to enormous cost savings over the long product lifetime of an aircraft. With its modernly equipped injection moulding centre, Hofmann offers its clients run-in capacities for parts in single-component and multi-component technology, right up to 3K parts. Machines are available with special fitting packages of between 500kN and 16,000kN of clamping force, which can take on virtually any task.

Modern 3D printing technologies in aviation
Particularly for the Hofmann Group, it also applies that specific technologies, such as LaserCUSING with metal powder, can be included. A laser builds up generative components layer by layer from titanium powder, for example. The extremely hard and durable material is extremely popular in the industry, as well as in aviation.
The laser melting process with metals allows extreme geometry freedoms and functional integration for developers. Application examples include bionic holders for connecting the outer skin of the aircraft with the cabin or filling connections for oxygen supply. "LaserCUSING sets completely new benchmarks for the development of components.
Generative processes, such as 3D printing, must be seen completely separately from the boundaries of tool and mould engineering. This way solutions become possible that seemed impossible a few years ago using classic casting methods," says Jens Henzler, Managing Director of Robert Hofmann GmbH.

Mock-ups require full service under one roof
Hofmann took over the true-to-scale production of the mock-up modules, right up to installing them in the aircraft fuselage, which can be found in the Airbus Showroom in Toulouse. For the interior fittings, Modellbau Robert Hofmann employed its entire engineering expertise for the process chain, product development, right up to production and implementation.
In detail, this means draft designs and concepts, 3D constructions, assessment of variant engineering designs, product analysis (e.g. FEM analysis), simulation, stress tests and functional tests. With complex assemblies like mock-ups, these services are very advantageous for the client, as he receives the required products from a single source with the certainty that they are in no way inferior to series parts in functional terms. The "one-stop shop" not only saves Airbus time, but also offers potential for supply reliability.

The example makes a clear impression
The project is among the prestige projects of the Hofmann Group; on the one hand, as a highly complex planning task, and on the other hand, under the aspect of process and method combination. "The tasks of model construction for such presentation applications are diverse. In addition to aircraft engineering, this is an interesting option for the initial presentation of fittings options.
Model construction and small series are interesting for the utility vehicle sector, for passenger transport systems, such as buses and railway vehicles, right up to boat building and the caravan sector," explains Jens Henzler. After having mastered such a task for the demanding aviation industry, his statement can absolutely be believed.